Sustainability: A Summit of Champions
By Kristin Burns as seen in Dateline
UC Davis' second annual Sustainability Summit provided the opportunity to share and celebrate good news from across the university, including a new student coalition, innovative partnerships and the university's new Sustainability Champions — not to mention a new gold rating.
STARS GOLD
UC Davis maintained its gold rating in the Sustainability Tracking, Assessment and Rating System, or STARS. See separate story.
Representatives of nearly a dozen Davis and Sacramento campus departments, programs and initiatives — including Green Workplace, Big Shift and Aggie Square — presented sustainability updates to the nearly 150 people who attended the online summit May 29. 
Student voices played an integral role in the summit.
For example, Maya Bhadury, Kyle Krueger, Hunter Ottman, Carly Placencio and Yasmeen Qursha, representing the Associated Students of UC Davis and two of its units, the Campus Center for the Environment and the Environmental Policy and Planning Commission, announced the establishment of the Environmental Sustainability Student Coalition, saying it is intended to increase collaboration across 30-plus student organizations, mobilize diverse talents, and centralize resources for projects and initiatives.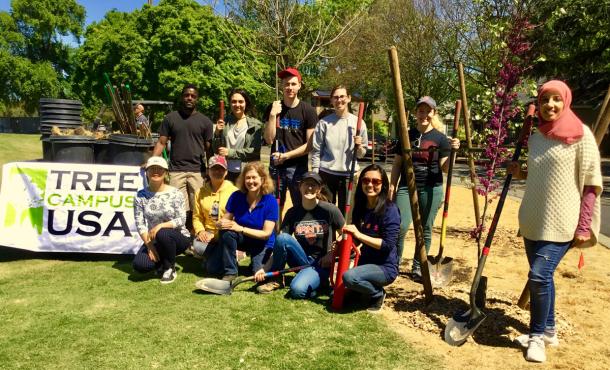 Allie Larman, one of UC Davis' UC Carbon Neutrality Initiative fellows, highlighted student engagement efforts that contributed to systemwide efforts to be carbon neutral by 2025. Activities included Farmers Market tabling, partnerships with campus departments such as Student Housing and Dining Services to discuss the impacts of climate change and equity issues with first-year students, and workshops on topics such as environmental justice, zero waste and COVID-19's impacts on sustainability.
"One of the most important parts of CNI is having the support of the student body and finding creative and equitable solutions that work for everybody," Larman said.
Champions of sustainability
Summit organizers recognized nine students, staff and faculty for their efforts in fostering a sustainable campus, advocating environmental stewardship and sustainability as part of campus culture, and creating awareness of environmental justice, climate justice, diversity, equity and inclusivity issues on campus.
"These individuals go above and beyond what is expected to grow a more sustainable campus through leadership and change," said Sue Vang, program manager in the Office of Sustainability and committee lead for the Sustainability Champions program. "The awards provide an opportunity for campus to acknowledge and honor their achievements."
One of four student awards went to Sabrina Denton, recognized for her efforts toward increasing food security in Davis and beyond through the Freedge project, whereby people are invited to stock fridges with food that other people are welcome to take for free; as an officer in the student group Strategies for Ecology, Education, Diversity and Sustainability, or SEEDS; as a project garden coordinator through the Campus Center for the Environment; and for developing Project Orange, a plan to plant citrus trees in garden plots to promote food security, teach students about where their food comes from and connect them to more sustainable food options.
"I remember first learning about sustainability in my life sciences class in middle school and wondering why we didn't just do everything as sustainably as possible," said Denton, who is majoring in environmental science and management. "I'm so glad that I've come to Davis and found other people and groups as passionate about sustainability as I am."
Pioneer Award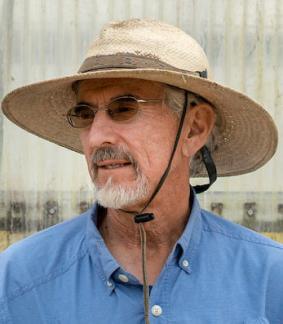 Raoul Adamchak, market garden manager for the Student Farm, received the Sustainability Pioneer Award for his active leadership and teaching in campus sustainability for nearly a quarter of a century, including his use of sustainable farming practices and the system he created for producing local, organic produce on campus, with surplus produce diverted to places in need.
Adamchak said he found hope in a recent New Yorker essay about the COVID-19 pandemic by science fiction writer and Davis resident Kim Stanley Robinson, which showed that people can alter their behavior in the face of an emerging disaster, and make sacrifices to flatten the curve.
"Sustainability is all about flattening the curve of climate change, it's about reducing fossil fuels and other resource use and it requires changing our behavior," Adamchak said. "We contribute discoveries to an existing body of science and we develop new leaders, so let's use these capabilities to be more sustainable in agriculture, medicine and all the other fields, to flatten the curve of climate change."
The Sustainability Champions will be featured on a new Sustainable UC Davis website that will launch later this summer — a joint effort by the Davis and Sacramento campuses.
See all award recipients listed below.
'Our sustainable future'
Camille Kirk, director of sustainability and campus sustainability planner, concluded the conference by encouraging attendees to reach out and collaborate with new partners in sustainability.
"I strongly believe that no big things get done alone," Kirk said. "We must collaborate and respect each other to co-create our sustainable future, which is our responsibility as stewards of our beautiful planet. It's also a deep wellspring of joy."
If you missed the Sustainability Summit, you can view the recording here. 
2020 Sustainability Champions
Student awards:
Sabrina Denton, environmental science and management major — Works to increase food security on campus and in the community.
Ben Liu, psychiatry resident, UC Davis Health — Leader of Sustainability Through Environmentally Thoughtful Healthcare, or STETH.
Megan Phelps, environmental science and management major — Founded Climate Reality Project Campus Corps.
Annie Wang, materials science and engineering major — Co-founded UC Davis chapter of PERIOD, a nonprofit organization focused on destigmatizing, celebrating and improving access to menstrual health.
Staff awards:
Raoul Adamchak, market garden manager, Student Farm — Recipient of the Sustainability Pioneer Award for leadership and teaching in campus sustainability for nearly a quarter of a century.
Anne Liston, lab manager, Tahoe Environment Research Center — Conducted Green Workplace lab assessment.
Faculty awards:
Natalia Deeb-Sossa, associate professor, Department of Chicana/o Studies — Recipient of the Diversity, Equity and Inclusion Champion Award for her work in social, environmental and climate justice.
Liza Grandia, associate professor, Department of Native American Studies — Raises awareness of toxicity in indoor workspaces as alter ego "Professor Canary."
William C. Pevec, professor emeritus, Department of Vascular Surgery — Faculty mentor for Sustainability Through Environmentally Thoughtful Healthcare, or STETH.
Tags