In order to meet our climate neutrality goals, UC Davis actively pursues renewable energy sourcing.
Learn more detail about our on-site, behind-the-meter renewable energy projects: 
South Campus Large Solar Power Plant Rooftop and Parking Lot Solar Renewable Energy Anaerobic Digester
---
UC Davis South Campus Large Solar Power Plant (aka the "Solar Farm")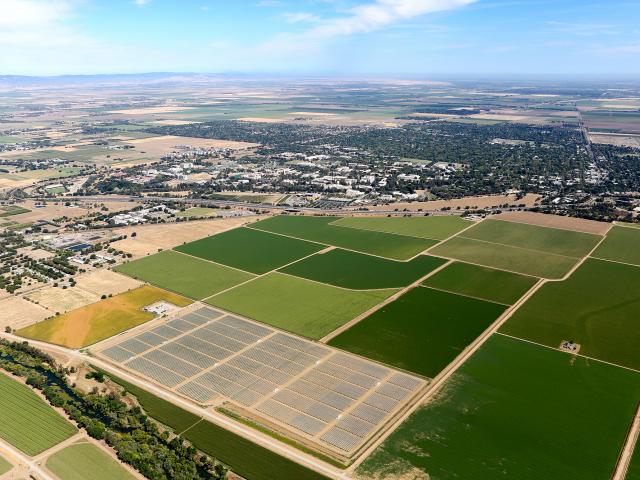 Aerial photo taken of the South Campus Large Solar Power Plant, August 2015, looking northwest with the Davis campus in the background 
UC Davis took a major step forward in securing affordable renewable energy for the campus with the South Campus Large Solar Power Plant. The plant finished construction and began producing electricity in August 2015. This project helps the campus reduce greenhouse gas (GHG) emissions and is part of the path to a carbon neutral future. 
Here are some common questions and answers about the project: 
Where is the UC Davis solar power plant? 
The solar plant is located on the UC Davis campus, on 62 acres south of Interstate 80. The extent of the plant can be seen in the photo above. 
How much power does the solar plant produce? 
The solar plant has a 16.3 megawatt capacity (peak DC) production, making it the nation's largest "behind-the-meter" solar installation on a university campus. On-site inverters convert that power to AC for delivery to the campus. The AC capacity of the system is 13 megawatts. The system will generate over 33 million kilowatt-hours per year, which is about 14 percent of the campus's electricity needs. This annual production is expected to reduce the campus' carbon footprint by about 14,000 metric tons of GHG emissions. 

The large solar power plant was sized to be in sync with campus electrical needs. Our contracts with PG&E do not allow the campus to "export" power back into their network if we generate more electricity on site than we need. As a result, all of the power generated by the large solar power plant must be used on-campus. UC Davis supports year-round, energy-intensive research even when school is not in session. Over the course of a year, the minimum electrical demand by the campus is about 19 megawatts, and that demand will likely increase as we electrify more of our infrastructure and fleet vehicles. During peak production, campus on-site renewable energy projects generate a maximum of about 14 megawatts of electricity. The 5 MW "buffer" between our minimum use and the maximum on-site production ensures that we never generate more power than we can use, and creates some flexibility for future on-site solar installations. 

Track the plant's production in real-time, as well as learn more about the Davis campus energy supplies and uses. The infographic is based on 22 years of energy use and costs, and the real-time displays show total campus energy use, including electricity, natural gas, and on-site renewable generation. In the real-time graphs, viewers can click the various energy sources on and off to see how each contributes to the whole. 
How does the solar plant fit with campus sustainability goals? 
UC Davis is targeting carbon neutrality (net zero greenhouse gas emissions) for our directly controlled greenhouse gas emissions and our purchased electricity (known respectively as Scope 1 and Scope 2 emissions) by 2025. We are also targeting 100 percent "clean electricity" by 2025. (These are both UC Sustainable Practices Policy goals.) This power plant, other solar photovoltaic installations on campus, and purchases of other renewable and hydroelectric power are critical to making the campus electricity supply carbon-free.

→ Find out more about UC Davis greenhouse gas emissions and our climate action plans. 
What about conserving energy instead of building solar power plants? 
Both energy efficiency and converting to renewable energy sources are critical to reducing our carbon footprint. UC Davis uses less electricity now than 20 years ago, even though we have grown substantially in population and buildings. But our teaching, research and support activities require energy, so we have to both reduce our demand and "green up" our supply. 
How do the solar panels work? 
SunPower designed and built the single-axis tracking system. The solar panels are cleaned by a robotic cleaning system that will help maximize energy production and use less water than more traditional panel cleaning methods. 
How much did the solar plant cost? 
Construction of the plant was implemented using existing funds set aside to pay campus utility bills. It was completed as a public-private partnership with SunPower to reduce campus costs by leveraging the tax incentives available only to private firms. 

UC Davis buys the power under a "power purchase agreement" (PPA) with SunPower. The facility has first year electricity prices of 6.7 cents per kilowatt-hour. By comparison, the average homeowner in the area pays about 20 cents per kilowatt-hour. It is also expected to be less expensive than buying wholesale electricity off of the grid. 

The system is anticipated to cost the same as or slightly less than current electricity costs during the first year of operation compared to business as usual. It is cost-effective over the long term. In the 20th year of the contract, the campus will only be paying about 8 cents per kilowatt hour. That is because the contract with SunPower provides predictable pricing for the next 20 years. The price will track projected market rates for the first six years and then become steadily cheaper than the estimated cost of buying electricity on the open market. 
How was SunPower selected for the project? 
---
Rooftop and Parking Lot Solar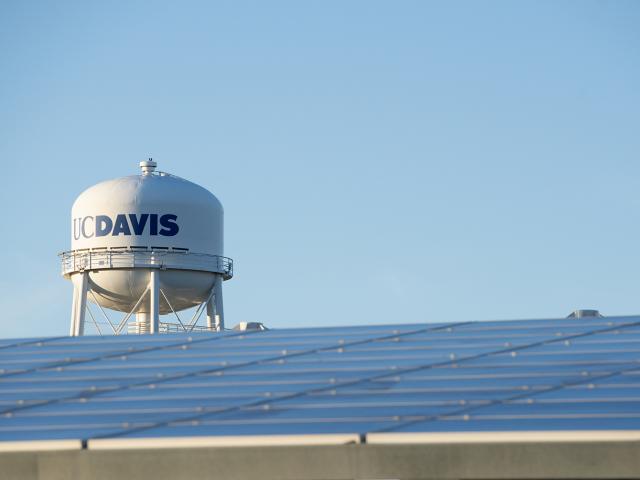 On-site solar panels shade parking spaces at Visitor Parking Lot 1 near the Mondavi Center, with the UC Davis Water Tower behind; January 2020. 
In January 2012, the campus "flipped the switch" on solar photovoltaic installations on various central campus building rooftops and a parking lot; the installations total 756 kW of production capacity, or on average 1,290,000 kWh per year. This solar is a power purchase agreement with Mainstreet Power, and is a 20 year contract. Installations are located at the Winery, Brewery and Food Science Laboratory (near the Robert Mondavi Institute), Parking Lot 1, Graduate School of Management and University Conference Center, Tercero Dining Commons, Segundo North (Adler, Miller and Thompson Halls), Segundo Services Center, and Segundo Dining Commons. All of the panels are fixed (no tracking). 
The UC Davis Medical Center in Sacramento owns and operates a 145 kW solar array on Parking Structure 3. 
In addition, West Village is served by an on-site, 4 MW production capacity, solar system through a power purchase agreement with SunPower. The West Village solar is located on rooftops and parking lots and is also a fixed panel installation. 
---
Renewable Energy Anaerobic Digester (aka "the biodigester")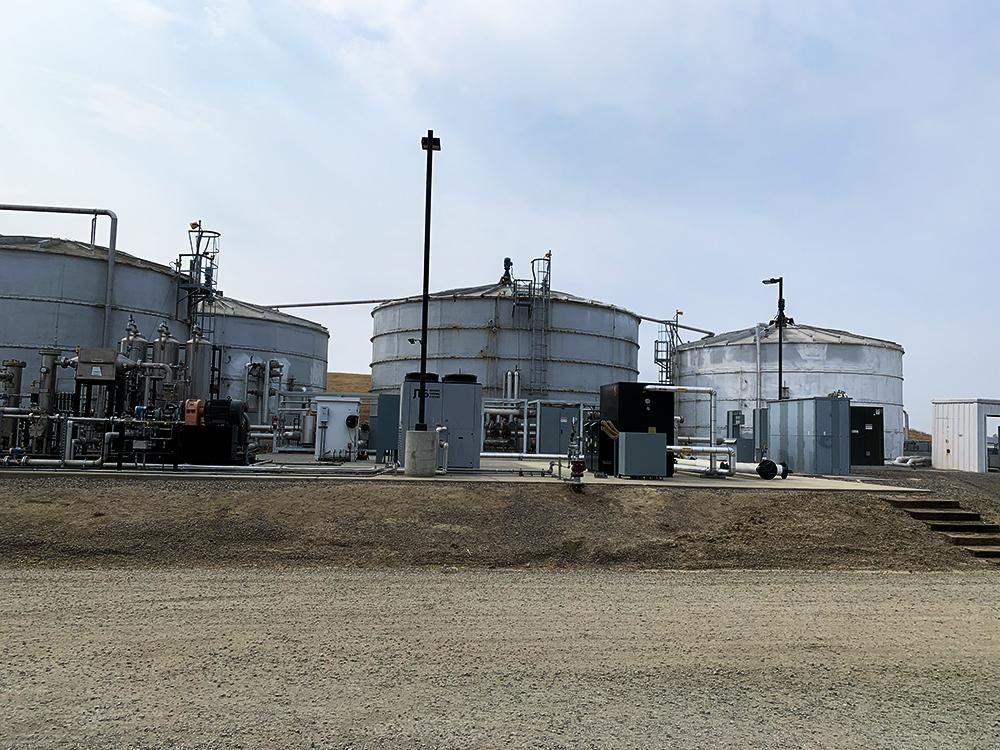 View of the Renewable Energy Anaerobic Digester, October 2020 
In April 2014, UC Davis officially opened the Renewable Energy Anaerobic Digester (READ), a waste-to-energy facility located at the former UC Davis campus landfill. Technology at the facility incorporates inventions resulting from pioneering research on anaerobic digestion by UC Davis Professor Ruihong Zhang and licensed by the University to CleanWorld. The READ facility was jointly developed by CleanWorld and UC Davis. The READ facility has been operational since January 2014. In 2017, the campus bought the digester, took over operations, and made modifications to meet campus operational requirements. 
The READ facility is designed to process up to 50 tons of organic waste per day. A three-stage thermophilic anaerobic digestion process is used with a total working volume of 450,000 gallons. The facility produces biogas which is burned locally in campus boilers for process and space heating needs. A project is underway in 2021 to install equipment to produce organic nitrogen fertilizer from the digester effluent stream. At full production, each year over 18,000 tons of waste would be diverted from local landfills, 40,000 MMBtu of biogas would be generated, and 150,000 pounds of nitrogen fertilizer would be produced. 
As of 2021, the digester is fed by the Davis campus' pre-consumer food waste and food waste from Raley's stores and other external customers, and production is about one-third of total design capacity – with nearly 17 tons of organic waste going into the digester daily, and about 13,300 MMBtu of biogas being produced annually. When the nitrogen fertilizer production is operational, it's expected to produce about 50,000 pounds of fertilizer a year.