Water is life, and hot, dry weather and recurring droughts are common in our part of California, so we must be water stewards.
Background  Water Systems  Water Supplies 

 Sustainable Groundwater Management Act  Goals  Progress   

Drought Response and Water Action Plan  Other Campus Water Action
---
Background
Even though the campus enrollment has more than tripled since 1969, the Davis campus is using about the same amount of water as it did in the 1970s. This per capita reduction has been achieved through both efficiency and conservation efforts. And, per capita reductions achieved during droughts have generally been sustained even during subsequent wetter weather periods.
 
UC Davis Water Systems
UC Davis is a registered small water supplier and operates and maintains six types of water systems and/or infrastructure on the Davis campus:
A potable water system for drinking and fire protection water.

An irrigation system for formal campus landscapes.

An irrigation system for agricultural fields and our aquaculture program.

A storm water drainage system for flood protection.

A collection and treatment system to handle wastewater.

A chilled water and steam/heating hot water system that provides central cooling and heating to the core campus.
The campus typically refers to the potable water system as the Domestic Water system, and it provides potable and fire water service to the Davis campus. For irrigation purposes, the campus maintains a separate, untreated Utility Water system.
 
UC Davis Water Supplies
For domestic/potable supply, the campus relies on two sources of water: a surface water supply and a groundwater supply. Domestic water is a blend of surface water and groundwater. Surface water makes up the majority of the campus water supply although the actual makeup will vary by time of year and location on campus. The water at a specific location could be all surface water, all ground water, or a blend of both. For utility/irrigation supply, the campus relies on groundwater. The campus has a pilot rainwater capture system at the Jess Jackson Sustainable Winery Building and the winery, brewery and food science laboratory. And, the Arboretum Waterway provides both habitat and stormwater detention.
 
Surface Water Supplies
Sacramento River. Water rights entitle diversion of up to 45,000 acre-feet of water per year for the Cities of Woodland and Davis and UC Davis. The campus participated in the formation of the Woodland-Davis Clean Water Agency (WDCWA), and helped secure funding and construct infrastructure for a joint intake on the Sacramento River, a regional water treatment facility, and necessary pipeline and pumping infrastructure.
UC Davis is exercising rights for delivery of up to 1.8 million gallons per day, which is 2000 acre-feet per year, of the Sacramento River surface water supply. The campus began taking water under these water rights in early summer 2017.
Solano Project. The campus has a second surface water supply which it currently uses, without treatment, for agricultural and fisheries research from the Solano Project and the Solano County Water Agency. Since Fiscal Year 2009-10, based on annual average usage rates over this timeframe, approximately 10 percent of Solano Project water supplies aquaculture research and 90 percent is used for field irrigation. UC Davis also has access to surface water from Putah and Cache Creeks. Putah Creek is the principal waterway in the Davis area, which is located in the Lower Sacramento watershed. In the 1870s, Putah Creek was diverted south of Davis to protect the community from flooding. The creek's historic channel is now the UC Davis Arboretum Waterway, which has no natural flow but is the main storm water collection basin for campus.
 
Groundwater Supplies
The campus draws groundwater from the deep aquifer beneath campus. This water serves domestic and fire protection needs. These aquifers are within sand and gravel alluvial deposits that were generated over time by Putah and Cache creeks and the Sacramento River. In 2003, the campus commissioned a detailed hydrogeologic examination of its aquifers.
Intermediate depth aquifers provide landscape irrigation, utility and agricultural needs.  Water levels in the shallower aquifers vary seasonally and are strongly linked to precipitation. Over-pumping these aquifers could result in lower ground water levels, and water conservation is critical to preserving them. Through increasingly efficient landscape and agricultural irrigation practices, the demand from these wells has declined by more than 30 percent since 1989.
The campus maintains separate systems and wells to support agricultural and aquaculture research. The agricultural water system is supplied by both surface water (Solano Project) and groundwater wells in the shallow/intermediate aquifer.
The aquaculture program is served mainly by groundwater. As part of drought conservation actions, the research location well on west campus was connected to a variable drive pump, which improved groundwater levels and has extended well life. As of summer 2017, the aquaculture facility discharges into the remnant North Fork of Putah Creek, which recharges groundwater and creates some riparian habitat that is managed by the Putah Creek Riparian Reserve Steward. Formerly, the facility discharged to Putah Creek.
 
Sustainable Groundwater Management Act
The campus is subject to the Sustainable Groundwater Management Act, and is located in a Medium/High Priority Basin. Thus, the campus elected to form a groundwater sustainability agency by becoming an Affiliated Party of the Yolo Sub-basin Groundwater Agency (YSGA). The YSGA covers the full sub-basin and UC Davis participated in supporting a basin boundary modification to include parts of the Davis campus that are located in Solano County into the YSGA. Under the regulatory schedule, the YSGA has begun preparing a Groundwater Sustainability Plan, which is due by January 1, 2022.
The campus has participated for more than a decade in groundwater level monitoring through a partnership with some of the members of the YSGA; coordination of the monitoring is overseen by the Yolo County Flood Control and Water Conservation District. Monitoring has shown that groundwater levels in the sub-basin demonstrate direct responsiveness to dry and wet periods of weather.
---
Sustainability Goals
Reduce potable water consumption (adjusted for campus growth), baseline for comparison is 3-year average baseline water consumption from FY 2005 to FY 2008.

By 2020: Reduce by 20%

By 2025: Reduce by 36%

Develop and maintain a Water Action Plan.

Identify single-pass cooling systems and constant flow sterilizers and autoclaves and develop a plan for replacement; and connect new equipment requiring liquid cooling to existing or new recirculating systems.

Each UC Health system will develop water goals that align with Practice Greenhealth's reporting requirements.
Broader goals addressed in the Davis campus Long Range Development Plan include:
Sustaining a resilient water supply

through water recycling, reclaiming water from the sewage treatment plant, collecting and treating gray water and reducing demands on the aquifers.

Conserving water

by enhancing water conservation programs for all campus systems, especially the core campus irrigation system.

Fostering a green infrastructure

that integrates storm water treatment basins throughout campus, improves water quality, recharge local aquifers and implements drought-tolerant landscapes across the campus.
---
Progress
The Davis campus is currently ahead of the policy goal.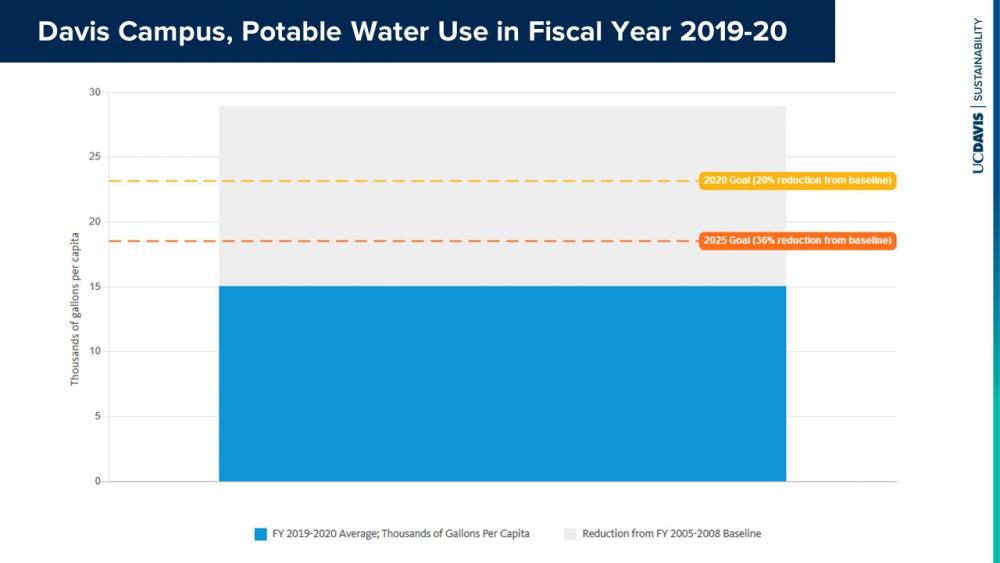 ---
Drought Response and Water Action Plan
Potable water conservation and efficiency are necessary to meet the policy targets for water use reduction, and to responsibly steward water resources. These actions are outlined in the 2014 Drought Response Action Plan, which is the Water Action Plan for the Davis campus. The current plan will be updated in 2021 to address the recently declared drought, and to incorporate recent findings from a 2020 water systems study and a 2021 water treatment plant facility analysis.
The Drought Response Action Plan outlines 49 measures across multiple campus sectors, including Operations; Dining Services; Landscape Management; Research Water Use; Communication, Behavior Education, and Outreach; Utilities Infrastructure; and New Construction and Renovation.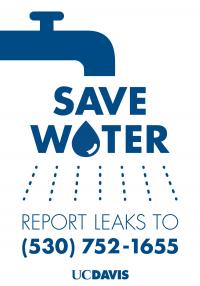 Key conservation actions with significant impact on water use include:
Use of reclaimed water in some of the

cooling

towers as of summer 2015

Operational changes to cooling tower cycling

Retrofit on research fisheries' well to recycle water use, and pump less water

Replacement of a number of older water fixtures

Significantly reduced irrigation

Retrofit of some landscaped areas

Implementation of behavior education and leak and water waste reporting programs
The campus is expanding use of tertiary-treated reclaimed water source from its wastewater treatment plant to additional cooling towers on campus. The new surface water supply to campus has better water quality than the groundwater, enabling the campus to reduce blowdown and water processing reject water.
The campus has had to increase irrigation some because the irrigation reductions in 2014 and 2015 were so stringent that the campus landscape, specifically the trees, noticeably suffered and the campus became concerned about losing important trees and tree canopy. Loss of trees/canopy could negatively impact aesthetics and qualitative experience of the campus, reduce heat island effect mitigation, decrease cooling evapotranspiration, and potentially increase energy use due to loss of shading and cooling from trees.
---
Other Campus Actions
Water in the Landscape and Arboretum
Water conservation in the landscape is discussed in the Land Management section of this site. The Arboretum Waterway is undergoing a major, multi-year project to maintain its storm water collection function while improving accessibility, safety, aesthetics, wildlife habitat characteristics. Read more about the Arboretum Waterway Maintenance and Enhancement Project.
 
Wastewater Treatment
UC Davis generates approximately 1.2 million gallons of wastewater each day. A sanitary sewer system carries this water to the campus's wastewater treatment plant in South Davis. This facility handles all the wastewater flushed or poured down the drains in campus offices, housing buildings, laboratories, food service facilities and other support facilities. You can learn how wastewater is processed on the Utilities website.
Medical waste and hazardous waste are not sent to the Wastewater Treatment Plant. They have special handling procedures established by Safety Services, including: