In order to meet our climate neutrality goals, UC Davis actively pursues renewable energy sourcing. 
In addition to on-site renewable energy projects, UC Davis has also secured off-site renewable energy through different projects and partnerships. 
UC Davis works with UC's Office of the President (UCOP) for additional off-site renewable energy development – requests for those opportunities are facilitated through UCOP Energy Services. The UC has repeatedly won U.S. EPA Green Power Partnership Awards for the system's contributions to renewable energy development and use.
 
Off-site Solar Power  Off-site Biogas 
---
Off-site Solar Power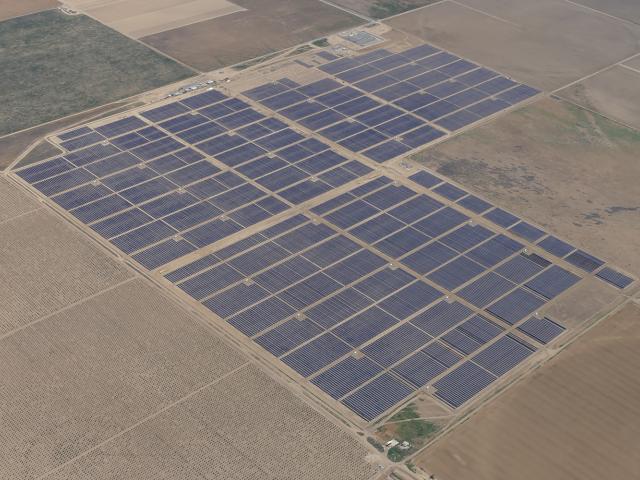 Aerial view of the Five Points Solar Power Plant. 
Five Points (60 MWac) and Giffen (20 MWac) Solar Power Plants – In partnership with UCOP, the Davis campus participated in off-take agreements that enabled two large off-site solar power plants to be built in Fresno County, California. UC Davis' financial participation gives the campus a nearly 27 percent share of the Renewable Energy Certificates (RECs) that certify the green energy production from these solar power plants. UCOP and UC Davis utilize these RECs to reduce the carbon intensity of our electricity supplies, including monetizing a portion of the RECs to fund further greening of our electricity supplies. 
SMUD Greenergy – The UC Davis Medical Center participates in the Sacramento Municipal Utility District's (SMUD) 100% clean electricity program, Greenergy, for clinical facilities served by SMUD. 
SMUD SolarShares – The UC Davis Medical Center participates in the SMUD SolarShares program, and the RECs associated with the allocation are retired by SMUD on the University's behalf and for the University's benefit. 
---
Off-site Biogas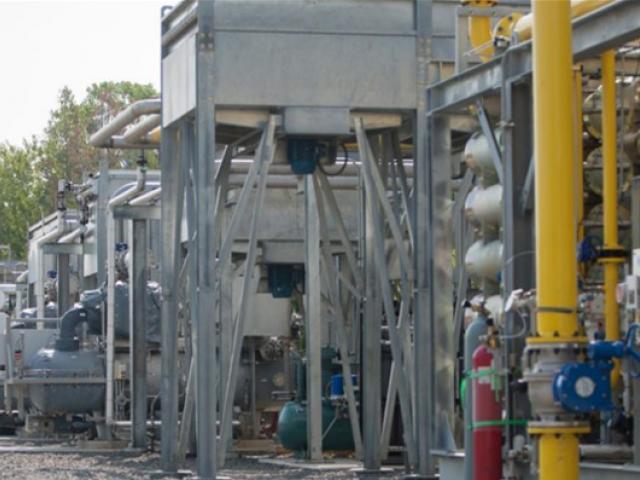 The University of California's Shreveport Biogas Plant 
The UC Sustainable Practices Policy, Clean Energy section, includes a systemwide commitment to biogas procurement. Development of off-site biogas has started, and continues through the UCOP Energy Services unit. 
The UC has only purchased biogas that: a) was previously being flared, reducing waste and criteria air pollutants in the local community; or b). created from the anaerobic digestion of organic waste (food, yard trimmings, etc) that was diverted from a landfill, helping reinforce UC's larger zero-waste goals. 
UC Davis will begin taking the off-site biogas in 2025, through the UCOP systemwide program that will provide at least 10 percent and up to 40 percent of the 2015 levels of natural gas use across the UC system. 
UC Davis 2015 natural gas use, reported by UC Office of the President: 
| Location of Use  | Million British Thermal Units (MMBtu)  | Therms  |
| --- | --- | --- |
| UC Davis Central Plant  | 809,579  | 8,095,790  |
| UC Davis Building-level  | 106,464  | 1,064,640  |
| California National Primate Research Center at UC Davis  | 40,851  | 408,510  |
| UC Davis Medical Center  | 1,183,394  | 11,833,940  |
| UC Davis: TOTAL 2015 Natural Gas Use  | 2,140,288  | 21,402,880  |
UC system-wide 2015 natural gas use, reported by UC Office of the President: 15,436,868 MMBtu or 154,368,680 therms. 
In U.S. American units, one therm of natural gas equals 100,000 British thermal units, or 1 million British thermal units equals 10 therms of natural gas