Sustainability Summit Highlights Champions and Partnerships
The role of partnership in sustainability was one of the major themes for the third UC Davis Sustainability Summit, highlighting this year's campus champions and accomplishments.
Students, academics and staff from more than a dozen campus units gave presentations as part of the UC Davis Sustainability Summit, held online on May 21. A video of the 2-hour event is available on YouTube; we've included time-stamped links to individual speakers below if you would like to watch specific clips or share highlights with friends or colleagues.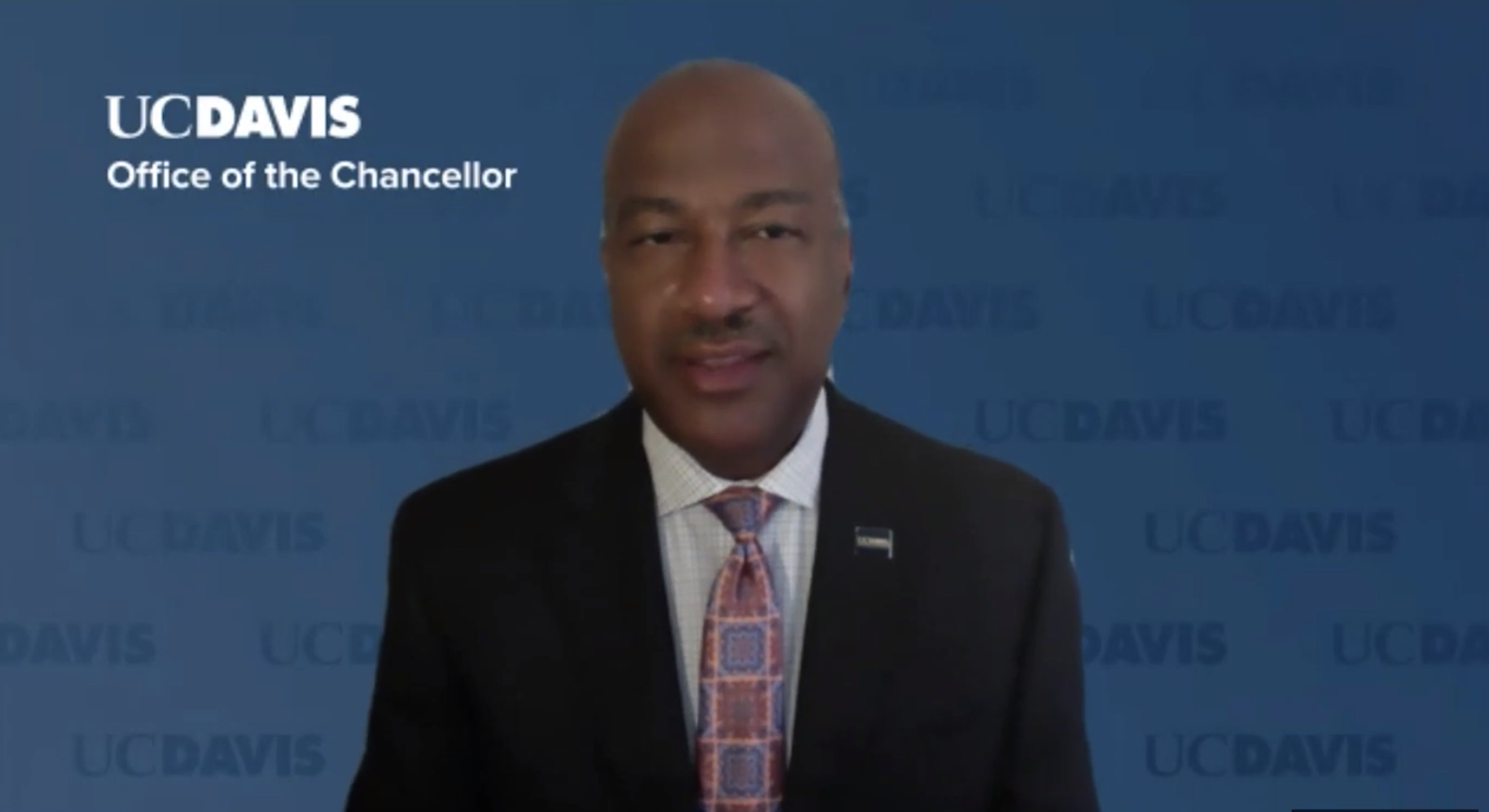 Chancellor honors Sustainability Champions
Chancellor Gary May presented four Sustainability Champion Awards to a student, two staff members and a faculty member.
Hunter Ottman was honored as the Student Sustainability Champion, as he approaches graduation with a degree in Landscape Architecture. "In his short time at UC Davis, Hunter has provided tremendous service to advance sustainability as a student leader and activist," May said. Ottman has served as a chair for the ASUCD Environmental Policy and Planning Commission, serves as the professional liaison for the UC Davis Student Chapter of the American Association of Landscape Architects, currently serves as the ASUCD liaison for the UC Davis Green Initiative Fund Student Committee and co-founded the UC Davis Environmental Sustainability Student Coalition.
Barbara Gumnor, nurse manager at UC Davis Health, was honored as a Staff Sustainability Champion for the Health campus. She was honored in particular for her contributions to improving biohazardous red-bag waste disposal and thoughtfully reimagining the hospital's waste logistics. "Her successful efforts to reduce medical waste have far-reaching impact beyond the Sacramento campus as others look to replicate them on their own health campuses," May said.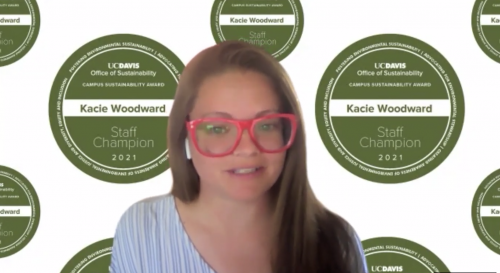 Kacie Woodward, staff veterinarian with Campus Veterinary Services, was also honored as a Staff Sustainability Champion for the Davis campus—in part because of her moves to replace single-use items with reusable alternatives. May highlighted a campuswide change in the use of disposable shoe covers as one of her major accomplishments: "In December 2020, after much research, deliberation and planning, UC Davis stopped using these single-use shoe covers in the majority of our vivarium. This greatly decreased the amount of unnecessary waste going directly to landfills," he said.
Mark O. Huising was honored as Faculty Sustainability Champion, for his environmental leadership among colleagues in the Neurology, Physiology and Behavior department. "Dr. Huising has led by example in several ways. He's pursuing waste diversion options for hard-to-recycle lab waste, investigating environmental claims before making lab purchases, buying carbon offsets for all business travel … and encouraging his colleagues and department to do the same," May said.
Campus partnerships braid together diversity, sustainability and global strengths
Two of the summit's keynote speakers highlighted growing partnerships between the Sustainability Office, the Office of Diversity, Equity and Inclusion, and Global Affairs.
Vice Chancellor Renetta Tull, of Diversity, Equity and Inclusion, spoke as a keynote on increasing involvement and engagement from diverse groups in sustainability efforts.
"In some cultures, it's very important to have an invitation to engage," Tull said. "We want to make sure that we're reaching out to groups across campus, to groups who have been traditionally marginalized, historically marginalized and who might not think this work is for them."
Jolynn Shoemaker from Global Affairs discussed the United Nations' Sustainable Development Goals, an agenda which includes 17 broad goals that can be addressed locally and globally.
"Why is the SDG agenda so important for UC Davis?" Shoemaker asked. "It's been an extremely valuable tool for us to speak across contexts and cultures on our common issues of concern. It's also really important as a 'bridger.' This is an agenda that's just as important at the campus level and local level as it is at the international level, which is really unique."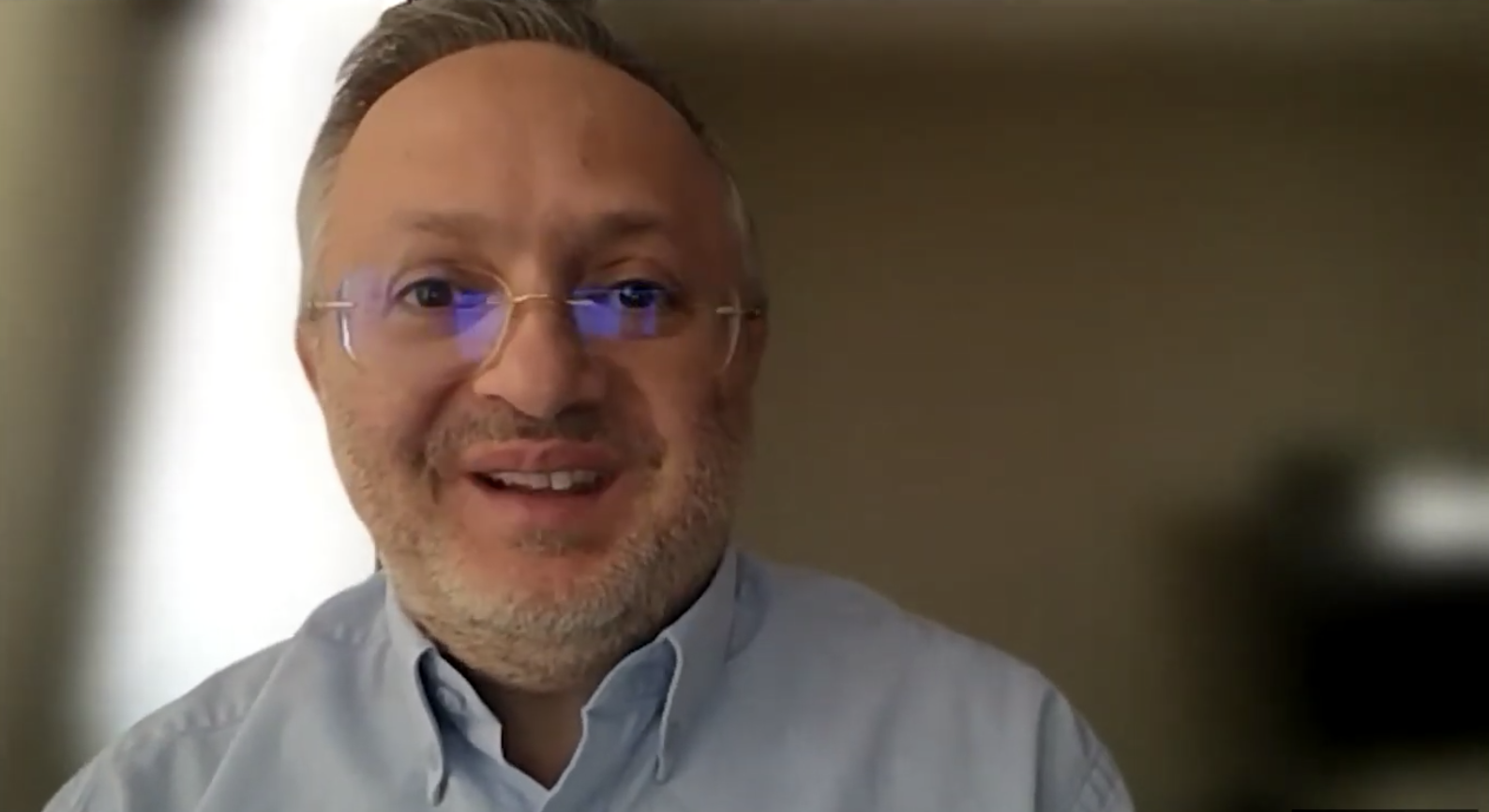 The power of collaboration and transdisciplinary solutions was also the focus of a keynote address given by Majdi Abou Najm, from the John Muir Institute of the Environment and the UC Davis One Climate Initiative. 
"I want to stress our comprehensive approach to sustainability that embraces its three pillars – the environment, the society and the economy," Najm said. "As we embrace diversity and inclusion, our solutions will only succeed if we approach sustainability with its three pillars and make them affordable, accessible and inclusive."
UC Davis Sustainability Director Camille Kirk, echoed her partners' focus on inclusion with comments on the importance of partnership, in the event's closing moments.
"I strongly believe that no big things get done alone," Kirk said. "We must collaborate and respect each other to co-create a resilient and sustainable future."
Students advance sustainability through leadership and engagement
Among the speakers at the summit were three UC Davis undergraduate students who have served as UC Carbon Neutrality Initiative Fellows this year.
The event also featured presentations from student sustainability leaders from The Green Initiative Fund, the Environmental Sustainability Student Coalition and ASUCD Sustainability Units.
Sustainability accomplishments in Davis and Sacramento
From UC Davis Health, Director of Sustainability Colleen McCormick discussed accomplishments and plans for sustainability improvements to the Sacramento campus. Sustainability achievements at UC Davis Health this year included:
Launching the electric Causeway Connection buses to increase participation in the green commuter program
Reducing red bag waste by 14%, which are especially costly in terms of expense, energy use and greenhouse gasses
Increasing percentage of food spending on sustainable foods, so that it is the highest in the UC system
Completing projects that will save more than 10 million gallons of water per year, including low-flow faucets, cooling system and co-gen plant efficiency
Achieving LEED Gold certifications for Patient Contact Center and Point West Clinic
McCormick also highlighted the work of UC Davis students and Carbon Neutrality Initiative Fellows Tia Settanni, Leslie Nelson and Ryan Callahan, who worked with projects related to student engagement, energy systems and LEED certification on the UC Davis Health campus.
For the Davis campus, Kirk shared sustainability updates from the Davis campus that have been happening while many have been working remotely this year, including:
New Sustainability website launches
The launch of the new Sustainability website was announced during the summit. The site brings together both the Davis and Sacramento campuses to focus on sustainability across all dimensions at UC Davis. The site is designed to connect people with information about campus sustainability progress and ways to get engaged at UC Davis.
Major progress on the Big Shift hot water conversion process
Updates to the waste system, including increased access to compost
Innovations for COVID-19 related waste, including a reusable rag exchange program as part of Custodial Services increased cleaning practices and reusable to-go containers at the Dining Commons
Savings of energy (13%) and water (16%) during the pandemic
Launch of at-home versions of campus green programs, including Green Home Office and Green Study Space as part of the Green Workplace program and Trim the Waste – Home Edition to reduce energy at home.
Six more LEED certifications for campus buildings, including LEED Gold certification for Shields Library
Associate Vice Chancellor Bob Segar, of Campus Planning and Environmental Stewardship, provided sustainability updates related to Aggie Square, with a focus on both its environmental and social sustainability aspects. When it comes to social resilience, the Aggie Square team recently completed a landmark Community Benefits Partnership Agreement, which includes investments in affordable housing, a commitment to hiring locally for new jobs, improvements to neighborhood transit and a community fund guided by local leaders.
"A huge part of this has been arriving at the role of the institution, the role of UC Davis, in participating and lifting up the neighborhoods that surround it," Segar said.
Watch the rest of the UC Davis Sustainability update for more details about new members of the sustainability team, the newly launched Sustainability website, a campus advisory committee and other forward-looking plans.
Find more information:
Tags